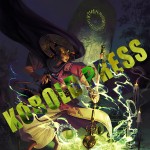 Thanks to all the backers out there, the Deep Magic Kickstarter closed with the following stats:
1,927 backers
$126,031 pledged of $10,000 goal
That is, frankly, amazing. And wonderful.
We have so much gratitude for each and every backer out there, and we hope that you all had fun being part of the process. Even better, we cannot wait to get all of these fun projects into your hands so that you can start enjoying them at your gaming table. If you want to see what all is being made a part of this project, the Kickstarter page has an excellent summary of the material.
But, what happens if you didn't back this project?
Guess what? You can still guarantee yourself a copy. Grab a good deal on a Deep Magic hardcover directly from us here at Kobold Press or from Paizo Publishing. When you reserve your copy, we'll include the Deep Magic PDF as a thank-you for that extra push on this project!
Over time, we'll provide you with updates here and on our Kobold Press Facebook page or via @koboldpress on Twitter, so keep an eye out for those.
Thanks again to all the backers and to those who helped spread the word about this extremely magical project. We could not have done this, and done it so stunningly well, without your help.